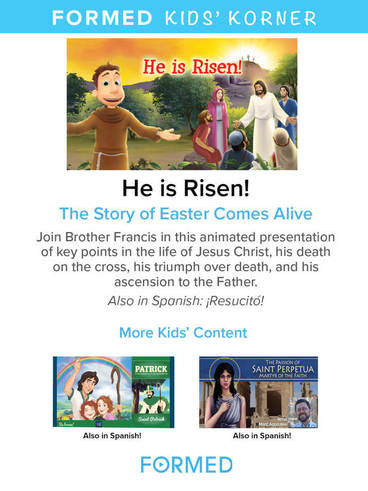 Do you want to help with Faith Formation?

We still need volunteers!
Contact Teresa or the Church Office.

RCIA & FF Groups meet Wednesday at 6 PM
​Groups meet in the Parish Hall


A Safety message for FAITH FORMATION families

Your child's safety is very important to us here at St John the Baptist, therefore, we ask parents to come inside the building to pick up your child/children from Faith Formation. If you have someone else picking up your child, you MUST notify the Faith Formation office at

501-276-8077

prior to the pickup time. Your child is NOT allowed to meet you in the parking lot. Please do not park at the front door as a courtesy to other parents and to maintain a safe environment for children and parents leaving the building.

Classes begin promptly at

6:00 p.m.

and we ask you to please be at the parish hall no later than 7:10 p.m. to pick up your child/children. Remember, Your child's teacher is a volunteer and they deserve to go home on time.

Thank you for your cooperation and if you have any questions, call Teresa Miller, Director of Faith Formation at

501-276-8077
​

God's blessings to you and your family.

A short, two minute conversation can change a person's life forever.

A face-to-face conversation about Jesus Christ and His Church can begin with an icebreaker. Often it is helpful to give someone a tangible reminder of Christ's love for them, like a Rosary or a holy medal.


Invite the person to share something of their story with you. Get to know them as you would anyone you meet for the first time.


Consider that this person is loved by God and that the Holy Spirit may have put them in your life so that they can hear the Gospel.


Ask them if they go to church or to describe their relationship with God as a way to start talking about faith.


Offer to share one good reason why you choose to believe in God or be a Christian.


Offer to remember them in prayer daily for the next week and ask them if they have a particular prayer request.


Offer to pray for them on the spot, placing the burden to pray on you and not on them.


Ask permission to contact them later and tell them you would like to invite them to a parish event, or even over to your own home. Follow up on your promise to contact them.
​
Invite them to events at our parish or small groups where they can explore the Gospel.

Downloadable worksheets to prepare your kids for Mass this weekend. Sheets available for pre/early readers and for those at a 2nd/3rd grade and above level.

Diocesan guidelines require a full year of Faith Formation prior to the year of preparation for receiving the Sacraments of First Holy Communion and Confirmation.

Please contact Teresa Miller, Director of Faith Formation
for more information.

Phone: (501) 276-8077
Email: drestjohnshs@gmail.com

​Un Mensaje de Seguridad para las familias de FORMACIÓN DE FE

La seguridad de su(s) hijo(s) es de suma importancia para nosotros aqui en San Juan Bautista y por lo tanto estamos pidiendo a los padres que entren al Hall para recoger a sus hijos/as de Formación de Fe. Si han dado permiso a otro/a para recoger a sus hijos/as DEBEN de notificar la oficina de Formación de Fe al 501-276-8077 antes de la hora de recogida. Su hijo/a NO está permitido ir al estacionamiento (parking lot) para ser recogido. Como cortesia a los demás padres que estan recogiendo a sus hijos también y para mantener un ambiente de seguridad para los niños y los padres que salen del Salón, por favor, NO APARCAR delante de la puerta de entrada del Salón.

Las clases comienzan puntualmente a las 6 de la tarde y les pedimos que esten en el Salón no más tarde de las 7 y 10 para recoger a los hijos. Recuerden que los/las maestros/as de sus hijos son voluntarios y tienen derecho de marcharse a casa a tiempo.

Gracias por su cooperación y si tiene alguna pregunta, llame a Teresa Miller, Directora de Formación de Fe al 501-276-8077.

Bendiciones de Dios para usted y su família.
---
---
---